Dumbwaiters, Cart Lifts, and other Vertical Material Handling systems are critical elements of modern-day, multi-story buildings. Users expect these systems to continuously function at the highest levels. Unfortunately, these systems, just like any other mechanical component, eventually fail.
The failure of an old system exposes the owner to higher costs (expedited parts delivery, overtime labor, etc.) There can also be the potential for extended down time due to limited parts availability and permitting restrictions when scheduling a modernization project.
Though a well-maintained system may last for 20 years or more, eventually you will need to upgrade several components of your vertical lifting system. With careful planning, the modernization of your system can be a strategic capital investment instead of an emergency situation.
Learn more about Matot Vertical Lift Modernization
Why Modernize My Dumbwaiter?
View the brochure below for Matot's guidance on modernizing dumbwaiters and lifts.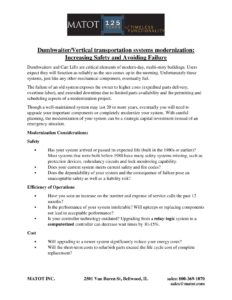 Back To Blog
Design & Planning Services
Our Planning Center has everything from basic information to final drawings.
Get Started With Matot