Sleepy Hollow High
Sleepy Hollow Middle School and High School are nationally recognized Green Ribbon Schools located in Sleepy Hollow, NY. With an enrollment of over 1200 children in the middle school and high school, the school lunch cafeteria is kept extremely busy throughout the school week. An old freight elevator used to bring cargo and food up from the first floor loading area to the second floor kitchen, but it had fallen into disrepair. The school was experiencing high monthly maintenance costs, increased labor for the school lunch room employees, and unsafe work conditions.
Automated Elevator Systems in Greenwood Lake, NY was able to partner with Matot and install a massive 2000 lb capacity material lift to replace the old, broken freight elevator. This Matot material lift can efficiently handle the heaviest cargo requirements and has increased the efficiency of staff unloading food deliveries at the loading bay. In addition, this Matot material lift has increased safety at the school by reducing the number of times that staff has to carry items between floors.
Constructed of sturdy stainless steel, the scissor gate construction and double door openings allow for cargo to be seamlessly passed through the lift and out the other side. The monthly savings from dramatically reduced maintenance costs has enabled the school to invest in other programs.
This project is one of the largest material lifts Matot has ever built, and is already an integral part of the school dining area. The Matot material lift will last for the life of the building, and will help the school staff work more efficiently for years to come.
CHALLENGES
High Elevator Monthly Maintenance Costs
Inefficient School Dining Staff
Safety Concerns
SOLUTIONS
New 2000lb Material Lift Dramatically Reduces Maintenance Costs
Increase in Workplace Safety
Increased Staff Efficiency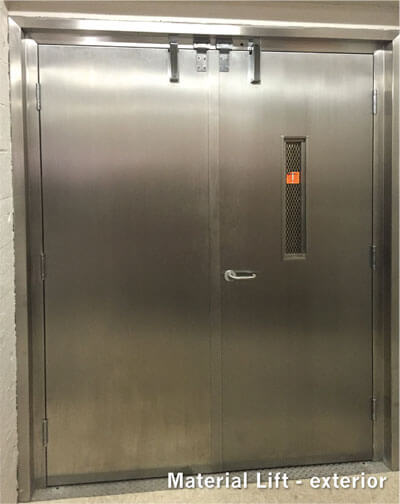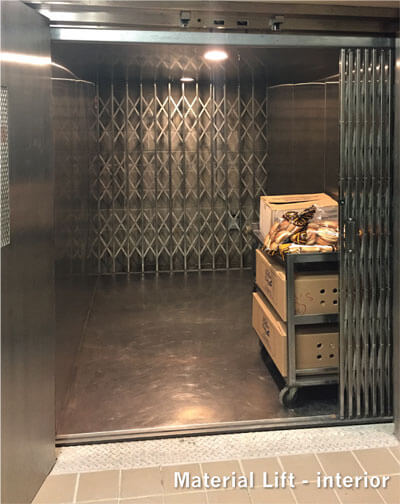 More Information
Industries
Products
Resources
Download PDF
Have Questions?
Our team of Dumbwaiter experts is standing by to answer.
Contact Matot