Crystal Jade
The Crystal Jade Restaurant in San Francisco, CA is a new addition to the city's fine dining scene. With a truly breathtaking view of the San Francisco skyline, the Crystal Jade offers traditional Chinese, Szechuan and Hunan cuisine. Founded by Ip Yiu Tung, the Crystal Jade group of restaurants has grown to over 100 locations worldwide. Located on Embarcadero right in the heart of the city's financial district, the Crystal Jade Restaurant employs over 50 staff serving lunch and dinner. The restaurant invested over $14 million to update and modernize its décor, making it one of the largest restaurant investments in the San Francisco area.
This two story restaurant faced several challenges with regards to serving food efficiently to their patrons. First – the narrow stair between floors presented a safety risk for wait staff carrying food trays.
In addition, the lower level kitchen required an efficient way to deliver takeout orders for walk up deliveries.
Matot was proud to custom design a dumbwaiter to meet these challenges. The Matot Model 110 dumbwaiter has a 200 lb capacity and a 24 inch by 24 inch by 36 inch cab, giving it the ability to handle large heavy trays of food. With a 17 second travel time between floors, the Matot dumbwaiter quickly transports food orders from the kitchen to the takeout area below.
Expertly installed by Pacific Elevators in Palo Alto, CA, this custom designed Matot dumbwaiter helps the Crystal Jade Restaurant increase their staff efficiency, reduce safety hazards and increase the ability to serve their customers.
Matot is proud to design a custom dumbwaiter food transport solution that will be a vital part of the Crystal Jade Restaurant's operations for years to come.
Challenges
Safety Risks Delivering Food Between Floors
Inefficient Food Transport
Slow Food Delivery for Takeout Area
Solutions
Increased Safety for Wait Staff Fast, Efficient Food Transport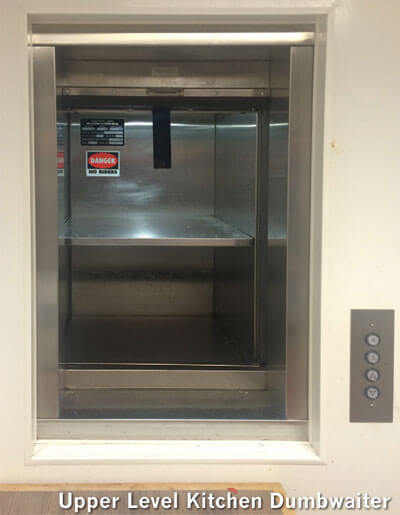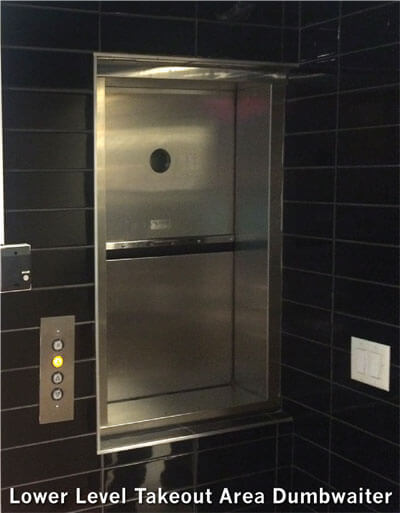 More Information
Industries
Products
Resources
Download PDF
Have Questions?
Our team of Dumbwaiter experts is standing by to answer.
Contact Matot