The Broadmoor Hotel and Golden Bee Restaurant
The Broadmoor Hotel is an internationally-known Five Star Resort nestled in the sprawling foothills of Colorado Springs, CO. As the longest-running consecutive winner of the AAA Five Diamond and Forbes Travel Guide Five Star Awards, The Broadmoor has been providing their guests with award winning resort experiences since 1918. With amenities such as a championship golf course, ten restaurants, tennis courts, indoor/outdoor pools and retail shopping – the relaxation possibilities at The Broadmoor are endless.
The Golden Bee Restaurant is located across from the Broadmoor main entrance and towards the back of International Hall. Featuring appetizers, snacks, traditional English and Irish pub fare, the Golden Bee is a place for Broadmoor Resort guests to relax with a pint of ale and enjoy a delicious casual dining experience.
In order to better serve their guests, the Golden Bee wanted a food delivery system that would increase the efficiency of their kitchen staff and quickly transport plates and food from the dining to the kitchen area. Matot was able to custom design a dumbwaiter solution to fit all of the needs of the Golden Bee. The Matot Model 100 Ambassador Drum Dumbwaiter has a large 300 lb capacity that can transport plates and food between the kitchen and the dining areas in less than 18 seconds.
Expertly installed by Morning Star Elevator of Colorado, the 30 inch by 30 inch car is built to last the life of the restaurant, and the sturdy stainless steel construction makes for easy spill cleanups.
Sustainability is very important to The Broadmoor Hotel and Resort, and the slim Matot design uses less space than a passenger elevator, less energy and costs less – making it an ideal choice for the environment.
Matot is pleased to provide a long term food delivery system for The Broadmoor Hotel that will provide efficiency savings for years to come.
CHALLENGES
Limited Space
Inefficient Food Transport
Sustainability Requirements
SOLUTIONS
Slim Design Provides Sustainable Solution and Energy Savings
Efficient Food Delivery
Robust Construction Built to Last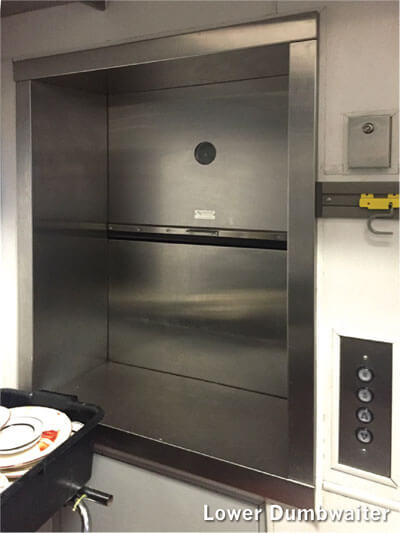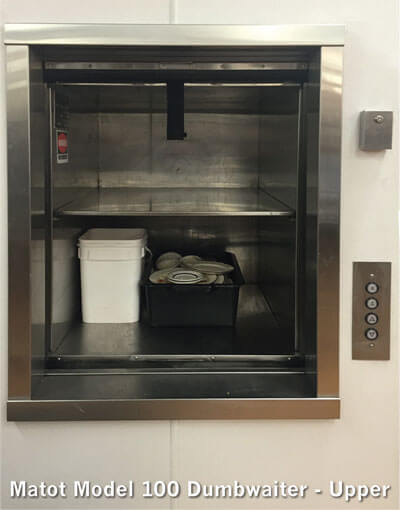 More Information
Industries
Products
Resources
Download PDF
Have Questions?
Our team of Dumbwaiter experts is standing by to answer.
Contact Matot